Meet Me at Pemberton Farms
Meet me at the market:) Cambridge and Somerville has a number of grocery stores to choose from.
Whole Foods
It's hard to believe that there are three Whole Foods grocery stores in Cambridge and one Whole Foods grocery store in Somerville!
XL-size Whole Foods at Fresh Pond Mall off Fresh Pond Parkway in Cambridge.
I remember this Whole Foods before it became the extra large version it is today. It's vast! Many West Cambridge residents shop here.
Large-size Whole Foods on River Street in Cambridge near the Charles River.
Prior to the pandemic, this was my main grocery store. You go up an escalator to shop on second floor. Unique.
Medium-size Whole Foods on Beacon Street in Somerville outside Inman Square.
It's hard to believe this store used to be a Johnny's Food Master. I get here now and again. I can walk here from my home.
Small-size Whole Foods on Prospect Street in Cambridge near Central Square.
I remember this store when it was known as Bread and Circus. I can walk here from my home.
Pemberton Farms Market on Mass. Ave outside Porter Square
I discovered Pemberton Farms Marketplace at the beginning of the pandemic and our family took advantage of their home delivery service for over a year. Pemberton Farms is a unique combination of grocery store and garden center. Every year we get our small Christmas tree here. Pemberton Farms has been owned and operated by the Saidnawey family for three generations now. I love their customer service and how much they care. This is now my go-to grocery now and will be for a long time to come.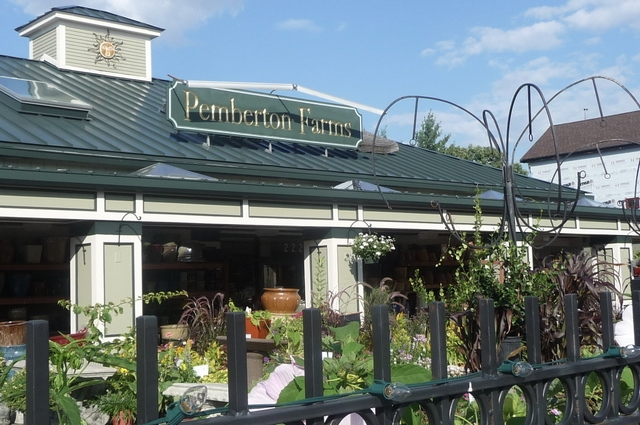 Star Market
There is a Star Market on Beacon Street in Somerville. And another one at the Porter Square Mall. And another one across from the Mt. Auburn Cemetery on the Cambridge-Belmont line. Star Market has been around forever. Your standard American grocery store.
Trader Joe's
There is a Trader Joe's on Memorial Drive along the Charles River and another one out at Fresh Pond Parkway near Fresh Pond. I have never been a Trader Joe's shopper. My mom is and I know others who swear by it.
Brother's Marketplace
Now there is a supermarket in Kendall Square on Broadway – Brother's Marketplace opened just before the pandemic kicked off. I am sure people who live nearby are thrilled to have this store. I checked it out with my mom. Nice. Neither one of has a reason to go here on a regular basis. Parking in the building is a nice feature.
Formaggio Kitchen
Formaggio Kitchen in Huron Village has moved into the former Fresh Pond Market space. Formaggio Kitchen is a classic gourmet grocery with a focus on cheese and speciality items not found elsewhere. They also now have a small outpost on Hampshire Street known as Formaggio Kitchen Kendall. Lucky for me, this is just a few blocks from home. We are regulars. Love the Forge ice cream they stock here. Oh, wait, I gave up ice cream this year:)!
Savenor's
First opened in 1939 in Cambridge, Massachusetts and located on Kirkland Street not far from Harvard Yard, this gourmet butcher shop and high-end grocer has made a name for itself through its commitment to providing customers with the finest meats and produce anywhere in the world. Once frequented by Rockefellers, Kennedys and Schlesingers, Savenor's brand recognition reached a pinnacle with the help of America's first celebrity chef, Julia Child. A loyal customer long before she became a household name, she continued to source all of the meats for The French Chef throughout the 11 year run of her popular PBS show. As any fan of the show could attest, Jack Savenor was frequently mentioned on-air, in addition to making several guest appearances as Julia's beloved butcher. My family shops here on a regular basis. In the pandemic, we have taken to getting items delivered by them.
Pictured below:
That's my mom – Patsy – at Brother's Marketplace outside Kendall Square. She's 80 years young.