Meet Me at Cambridge Common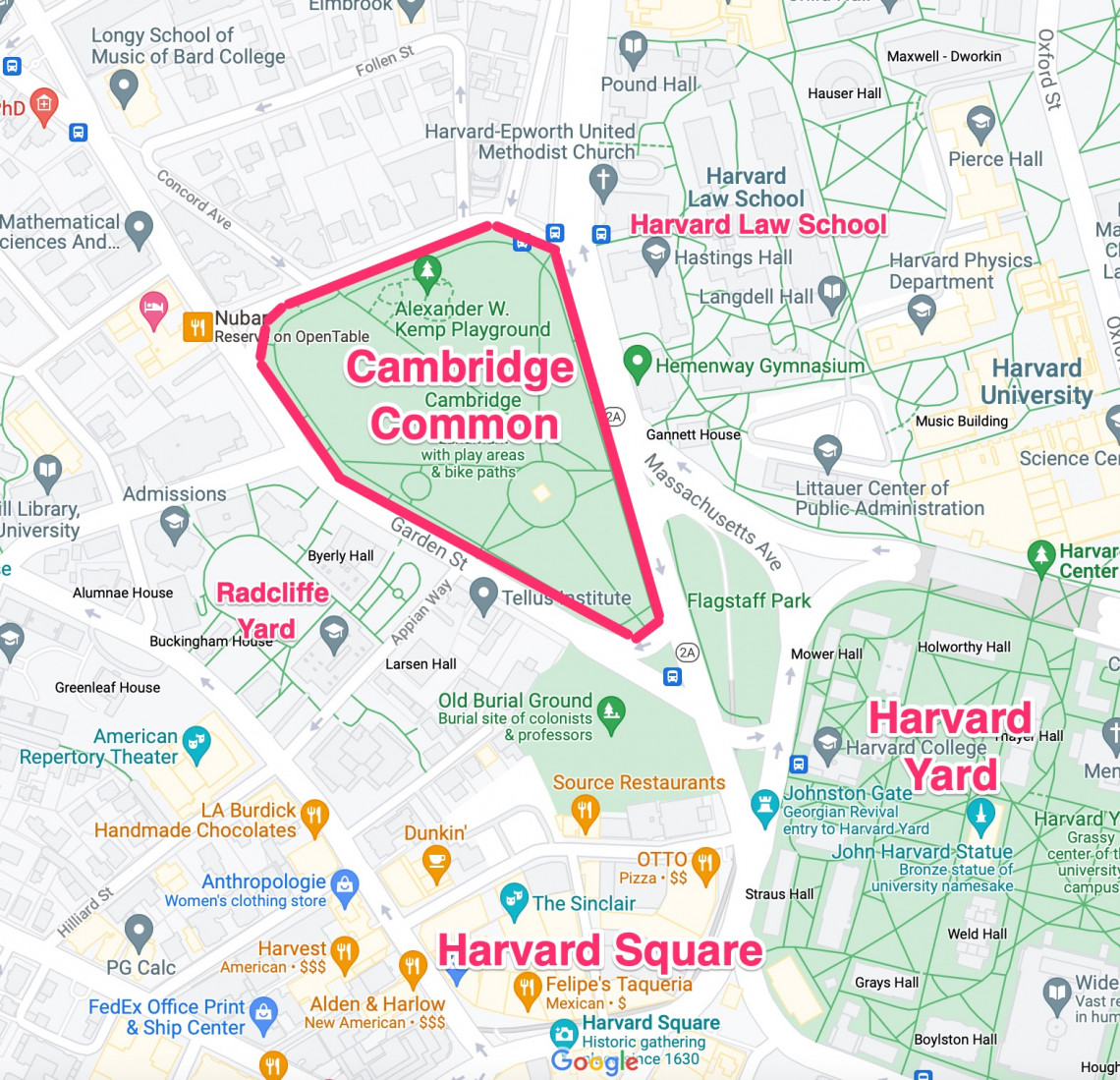 Located close to Harvard Square and Harvard Yard and across Massachusetts Avenue from Harvard Law School is Cambridge Common. The Common is bordered by Garden Street, Waterhouse Street and Mass. Ave.
Designated a National Historic Landmark, Cambridge Common is a sixteen-acre park made up of lawns, a playing field, a playground, pathways, and historic monuments.
Over 10,000 pedestrians and cyclists are said to pass through Cambridge Common on a typical day.
Cambridge Common has been around since the city's founding in 1631. Once upon a time it served as the center of civic activity.
In the colonial period it served as a pasture on which animals grazed. Back then the Common extended all the way to Linnaean Street. The current much smaller space defining the Common was not enclosed until 1830.
It was also used as a military training ground for both drill and encampment. Legend has it that George Washington took command of the Continental Army in a ceremony under the great Washington Elm. That tree, by the way, fell due to disease in the 1920s.
Barracks were constructed on the Common in World War I, as the Navy Department built structures for its Radio School.
The main monument in Cambridge Common is the Civil War Memorial. It features Abraham Lincoln in a covered area and on top of the memorial is a statue of a soldier.
A trio of cannons dedicated to Revolutionary War figures, including George Washington, are also found in the Common along Garden Street, near a stone marker commemorating Washington taking command of the Continental Army.
A statute of Puritan John Bridge stands tall closer to the Waterhouse and Mass Ave entrance to the Common.
A more recent addition is the Irish Famine Memorial, installed in 1997 close to the pathway on the Garden Street side.
Also found in Cambridge Common near Waterhouse Street is the Alexander W. Kemp playground for children, renovated in 2009.
Between 2014 and 2016, Cambridge Common and neighboring Flagstaff Park were renovated. This $5M+ project introduced new paths and park benches and lighting to the Common, as well as over 100 trees and improved drainage and new turf surfaces.
A large field in the Common along Garden Street is often used for ball games in season.
Over the long passage of time, Cambridge Common has evolved from a civic center to something more akin to a memorial park, a place more people pass through than come to for a particular reason. That being said, history resonates here, and it is truly worth visiting. I encourage you to find your way here.