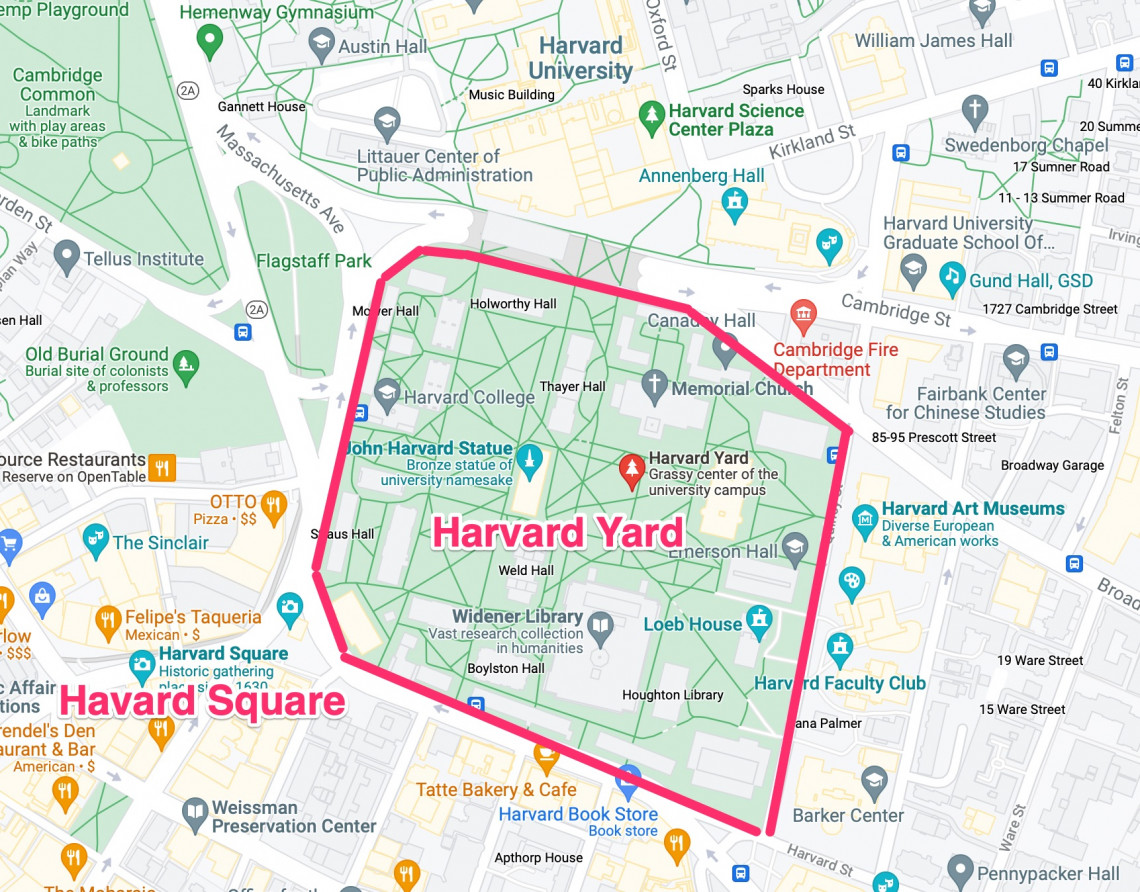 Harvard Yard is the oldest part of the Harvard Campus, its historic center and a modern crossroads. Harvard Yard is 22+ acres in size, defined by the boundaries of Massachusetts Avenue, Cambridge & Broadway and Quincy Street. The Yard is an enclosed space, mainly with iron fencing. There are 27 gates found here.
Harvard Yard is made up of two main areas – the Old Yard and Tercentenary Theatre.
The Old Yard
Johnston Gate near Mass. Ave is the primary access point for the Old Yard. The Old Yard contains most of the freshman dormitories, as well as University Hall and the office of the University President. The president's office is located on the first floor of Massachusetts Hall, which dates from 1720 and is the oldest building on campus. As it happens, Freshman dorm rooms are located on the floors ABOVE the president's office.
As a Freshman at Harvard, I lived in the Old Yard in Thayer Hall (1870). I will never forget Hurricane Gloria blowing through in late September 1985, soon after I had moved into my room on the first floor of Thayer South. Heavy winds knocked down a number of trees branches right outside my window in the yard that day. Fortunately, no major damage was done.
Also found in the Old Yard is the famous state of John Harvard located in front of University Hall. This 1884 bronze sculpture, by Daniel Chester French. Students call it the "statue of the three lies" because the inscription underneath the statue reads "John Harvard, Founder, 1638." As it happens 1) John Harvard is not the founder; rather he was an early benefactor 2) Harvard was founded in 1636, not 1638 and 3) The statue is not based on John Harvard, for whom there are no images, but rather of a Harvard student! Those who visit the John Harvard statue are known to rub its left shoe for good luck.
The Old Yard is the heart of Harvard Yard. Coming into the Old Yard from Harvard Square is always a magical experience. There is a strong sense of history here, and a pregnant silence filled with by the presence of students both past and present.
Tercentenary Theatre
Adjacent to the Old Yard is Tercentenary Theatre. Found here are Memorial Church, Widener Library and several classroom buildings, including Sever Hall and Emerson.
Commencement exercises and convocations are held every year in Tercentenary Theatre, with the steps of Memorial Hall made into a stage for the festivities. I remember the great jazz singer Ella Fitzgerald (1917-1996) being present at my Harvard graduation to receive an honorary degree.
Widener Library, housing some 3.5 million books, overlooks Tercentenary Theatre. Fittingly, its front facade is defined by a row of substantial pillars. Houghton Library and Lamont Library are also located to one side of Widener. I recall spending many hours studying at Lamont as a student.
It's always a treat to pass through Harvard Yard. It really is a truly special place.