I first set foot in Harvard Square in 1984. A wide-eyed junior in high school, I came from Michigan to visit my older brother, a freshman at Harvard that year.
Back then, the underground MBTA station was very much under construction. Coming from silent suburbia, I was immediately struck by all the people and the pulse of life in the square. For me, it was love at first sight!
I returned as a Harvard freshman myself in the fall of 1985, moving into Thayer in Harvard Yard, on the doorstep of the square.
These are some my Harvard Square memories:
Harvard Cooperative ("The Coop") – Buying textbooks at the start of each semester at the Harvard Coop for my classes at Harvard. So many books! I remember once seeing Allen Ginsberg here for a book signing. Even now, I like going into the bookstore here.
The Tasty – The Tasty was a diner with a dozen stools. It operated from 1916 to 1997 in the heart of Harvard Square at the intersection of JFK Street and Brattle Street. I have fond memories of finding my way to the Tasty late at night for something to eat after finishing up with writing a paper or studying most of the night. Easy banter at the counter with a few other late night denizens and the friendly staff. I remember one night having The Tasty to myself as snow began to fall on a silent Harvard Square outside the picture window.
The Brattle Movie Theatre and Harvard Film Archive – I got my film education at these two cinema outposts in Harvard Square. The first film I ever saw at The Brattle was Powell and Pressberger's classic I Know Where I'm Going (1945). And I will never forget being in a line outside the Brattle that ran for more than two city blocks to get in to see a rarely screened print of The Story of Temple Drake (1933), based on William Faulkner's novel Sanctuary. Great memories for me here over the last 30+ years, seeing so many classics. Same for the Harvard Film Archive. No food or drink inside the archive. Seeing most all of Antonioni's great films here stands out in my mind.
Cafe Pamplona – This subterranean cafe (also with outdoor patio seating in season) was located at 12 Bow Street, at the intersection of Bow and Arrow Streets. When it opened in 1959 it was the first café in the Square. It went out of business in 2020 during the pandemic. As a Harvard student in the late 1980s, I met weekly here with my thesis advisor. Being at Cafe Pamplona felt a bit like being in Europe. Fond memories of being there and then going upstairs to Cambridge Architectural Books (now closed). I miss being able to sit outside here in season.
Harvard Book Store – I have spent countless hours in many book stores in Harvard Square over the years. Harvard Book Store has long been a favorite, and it is still going strong. I have a vivid memory of meeting Swedish crime writer Henning Mankell (1948-2015) here after he gave a reading in the store. A very gracious man.
Regatta Bar – The Regatta is a jazz bar located in the Charles Hotel. Fond memories for me of seeing jazz singer Joe Williams (1918-1999) here, and many others.
My real estate offices - From 1999 to 2016, I worked at Hammond Real Estate (RIP) at Two Brattle Square, directly behind the Brattle Movie Theatre. Since then, I have been on the other side of Harvard Square at Compass, first at the 1073 Mass Ave office, and now at the 1100 Mass Ave office. Working in the square for more than 20 years has been a real treat.
Out of Town News - After more than 60 years, the iconic newsstand in the heart of Harvard Square shut down in 2019. For years, I purchased the Financial Times weekend edition here on Saturday mornings. Before the advent of the internet, Out of Town News was a true source of foreign news publications.
Brattle Street Florist - Located at 31 Brattle Street and in business since 1973, Brattle Street Florist is a Harvard Square institution. I have been getting flowers here since my Harvard student days in the 1980s. It is invigorating to step inside this friendly florist each and every time.
I have such fond memories of Harvard Square. And I look forward to new experiences in the square in the years to come.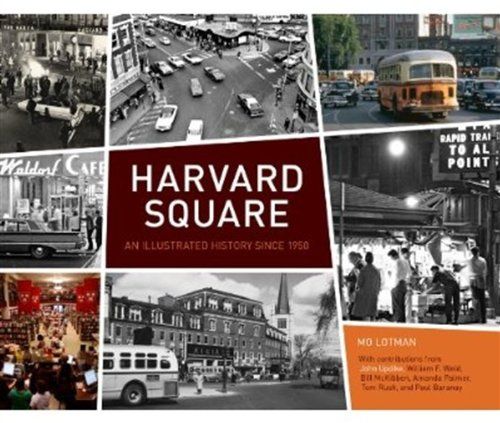 Harvard Square is crossroads where poetry, retailing, politics, design, performance, and every other cultural endeavor intersect.